The Indie Film Circle Meetups are held twice a month at Wallace Studios. The Indie Film Circle meetup will be on Monday, April 23, 2007 and 2 independent films will be screened - "Brothers, Bail Jumpers & Beyond", "Trippin' on Panties" and "The Cyclist"
After the screening a film review will be conducted by the audience members who will have a chance to share their comments and criticisms with the filmmakers in a moderated forum and the filmmakers will be available for Q&A.
If time allows we will have an open discussion and give you the opportunity to ask questions and to state your goals. This part of the meetup is important as it will provide personal and professional development to new perspectives.
Here's the line-up: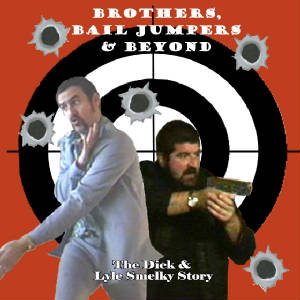 Genre: Comedy
Running Time: 32 minutes
Produced by: Bret Ootes
Directed by: Bret Ootes
Written by: Bret Ootes
Cast: Bret Ootes, Lyle King, Ben Hunter, Dionne Vanderpool, Makeda Scott, Beth Ootes

This is the humorous story and adventures of Texan DICK SMELKY, a 35-year-old Austin bounty hunter and his 25-year-old Canadian bounty hunter half-brother, LYLE SMELKY. Dick, no longer insurable due to a multitude of injuries from both his hectic career and careless personal life, is forced to pack up his meager belongings and head to the Great White North and assist Lyle in pursuing an odd assortment of bail jumpers. Lyle soon realizes Dick's arrival may be more of a hindrance then a help as Dick leads Lyle into one dangerous situation after another and the two often find themselves battling one another as well as Canada's worst criminal elements.
Set in and around the gritty modern day streets of Scarborough, Canada, Dick and Lyle are followed around by a 'documentary' film crew as the stumble their way through daily car chases, shootouts, foot pursuits, fist fights and family feuding. Both brothers also take time out of their busy schedule to offer direct testimonials to the camera crew allowing for a more personal insight into each brother's mental and emotional state throughout each episode. What results is a twisted hilarious 'reality' series along the lines of COPS.
Director's Bio
I was born and raised in Toronto, Canada to a Dutch immigrant politician father and an Irish hot-tempered schoolteacher mother. I'd like to say I followed in my parents' overachieving ways but this was not the case throughout my childhood and teen years. I excelled at mediocrity thru most of public and high school spending most of my math and science classes in theatres watching any and all films.
I was however fortunate enough to maintain my arts grades in high school, which allowed me to attend film school and I went on to graduate from Ryerson Polytechnic University with a BAA in Media and Film Studies in 1998. I spent the next few years working behind and in front of the camera on several independent film and music video projects as well as being a DJ for a local band.
In 2000, I co-wrote several songs that were used in the Sony Playstation NHL 2001 video game as well as the feature film THE CONTRACT, which starred Billy Dee Williams and debuted at the Cannes Film Festival.
For the next few years I worked as an office supervisor to make ends meet and pay off my student loans but continued to work on my screenplay, ATOMIC EYE as well as writing several short stories and music scores for short films for friends who were producing projects around the Toronto area.
In 2005 my office job relocated and I found myself unemployed for the first time in my adult life which I believe was a blessing in disguise as it motivated me to pursue my goal of completing my first feature screenplay. A few months later I finished my screenplay ATOMIC EYE and over the next year received honorable mentions and awards in several screenwriting competitions such as The Queen's International Film Festival, A Feeding Frenzy.com and Screenplay Festival.com.
In 2006 I finished as a finalist in Final Draft's Big Break Screenwriting Competition and placed in the final 10 out of over 3000 entries.
Currently I continue to look for an agent and pursue a career in writing and have a number of screenplays in the works. Although it has been tough at times, (both financially and personally), I've been lucky enough to have the support of my family and fiancÚ as well as the recognition of several screenwriting institutes.
I look forward to the ever-exciting journey that lies ahead.
Trippin' on Panties
Genre: Drama/Comedy
Running Time: 8:10 minutes
Produced by: Dino Santoro
Directed by: Dino Santoro, Bill Lucas
Written by: Dino Santoro
Cast: Paul Berner, Johnny Philips, Dorothy Quesnel, Dino Santoro, Luca Santoro
Two brothers wake up after a crazy night of partying to find one of their guests is dead. Each brother believes that he killed the guest, but neither will admit it. Two detectives pick up the scent and bring them in for questioning, only to find out not everything is what it seem
"The Cyclist"
Director: Eric Fischer
Running Time: 13 minutes
Genre: Comedy